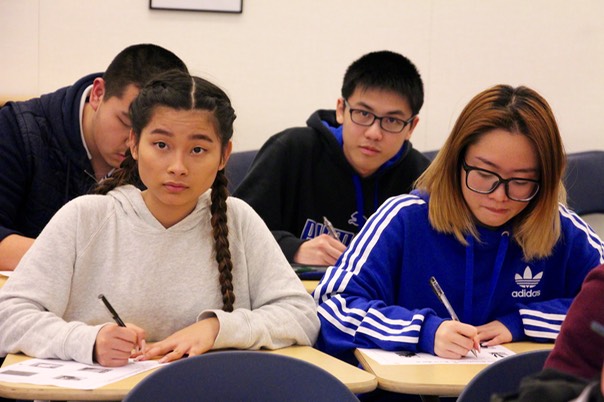 My sophomores were not happy with me, and it was only the first month of school. One argued, "But we write better with headphones on; music helps us concentrate." Another, whined, " Our freshmen English teacher last year let us listen to music when we wrote."  It was as if I had violated some sacred amendment in their teenage Bill of Rights.  "We are going to do difficult things in World Studies this year, " I explained.  "Reading closely and writing carefully demands your full attention. Writing with headphones or using your Smartphone while reading is like texting while driving. I don't want distracted learning in here." Not an auspicious start, but I was determined to help them improve their social science writing. 
As social science teachers we often like to assign writing. However, I am afraid too often we avoid teaching writing. And yet, we are often very frustrated by what students turn in to us. Teaching writing can be overwhelming because it demands so much teacher instruction and feedback. We have other competing demands. However, good writing instruction begins with a honest evaluation of our students' skills. Our lessons should develop from that assessment. What we learn may even mean we assign fewer pieces of writing, but do more writing instruction.

Teaching Informational Writing
The next week I assigned a formative writing assessment on the rise of democracy, the unit we had just completed. The informational essay would be evaluated, but not graded I explained. Students were to write without any instruction from me. This was my chance to assess their writing skills.  I evaluated their efforts on an informational writing rubric, designed by the World Studies Team I was leading. The results were not pretty. The average writing score was 65%. Only 24% of my students were proficient, three quarters were not. After circling their rubrics, I wrote each student a note with specific suggestions to improve their writing.
The next day in Room 122 we began our three-week journey to Britain, immersing ourselves in the Industrial Revolution of the late 18th and 19th centuries. The summative assessment would be an informational essay. The prompt read: "write an essay in which you explain the positive and negative impact of the Industrial Revolution in Britain. Support your discussion with evidence from the five sources provided." 
The first rule of helping students with good writing is to give them something to write about. We began with the inventions. Students worked in teams of four, sorting 20 images into 10 pairs. As they figured out the pattern, students placed an illustration of an old fashioned spinning wheel next to a photo of a textile factory; an image of a team of horses pulling a wagon lay next to a photo of a locomotive. Each pair showed how preindustrial methods gave way to modern inventions, transforming our way of life. For homework, students made a list of all the things in their homes using electricity, and then wrote a paragraph, describing an imaginary day without technology, including cell phones.
Along with traditional textbook readings and classroom notes, we analyzed photos of children working in English coal mines, and read their primary source testimony to the English Parliament. We annotated an article on the medical breakthroughs that stopped the spread of cholera in 19th century English cities. And we set up our own factory, making paper airplanes, to simulate the new division of labor in the factory system. OK, full disclosure we flew them, too, undoubtedly having a lot more fun than industrial workers of the 19th century. 
During the unit I gave students lots of writing practice, with feedback on their writing. They used their Chromebooks to do Internet research on child labor, including examples from today.  Using these details students wrote a paragraph. I showed them how to integrate visual information into their writing with a political cartoon by a 19th century British reformer. We did an activity on how to  write with text evidence.  I reminded students how to do in-text citations of their sources by taking the key information from the left of the source, reinforcing the skill with the Beyoncé lyric, "To the left, to the left."
The week of the essay I focused on lessons about informational writing. I handed out the informational writing rubric again and had them annotate the rubric and grade a model essay I had written on democracy.  Then, I handed back their first attempt at informational writing so they could grade their own formative assessment.  I had them prepare for the essay by brainstorming and listing the positive and negative impacts of the Industrial Revolution in Britain.
The day of the essay I proudly looked across the room at my forty-one rambunctious sophomores. They were huddled over their prompt and sources, writing for an entire period. There were no headphones or cell phones in sight, no distracted learning here. Their efforts paid off. When I scored each essay on the rubric, the average class score climbed from 65% to 78%. My students had not only learned a lot about the Industrial Revolution, but another important lesson as well: while writing is hard, they could do it. Their practice and effort paid off. As I handed back their results, I smiled and congratulated them. It would be a good year.
As you can see from the vignette above there are four key elements in my approach to helping students become better writers. First, do a formative or pre-assessment of your students' writing abilities. Second, use a rubric to assess student efforts. Third, give students something to write about by teaching a rich series of lessons on the prompt topic.  Fourth, explicitly teach the writing steps and help students understand the rubric so they can be successful in the assignment, becoming better writers along the way.
Teaching Argumentative Writing
High school kids love to argue, ask any parent. And if you pick the right topic in class, our students like a good debate. They are passionate about persuading classmates that their opinion is right. We can help them improve their persuasive powers by teaching them the art of argumentative writing with evidence.
The Common Core requires our students to: Write arguments to support claims in an analysis of substantive topics or texts, using valid reasoning and relevant and sufficient evidence.
As with teaching either informational writing or argumentative writing, a good starting point for teachers is to use a formative or pre-assessment to gauge your students' writing skills.
I designed such an argumentative writing assessment for my US History students.  The topic was: Thomas Jefferson - Hero or Hypocrite? I asked students to read two articles on Jefferson with opposing points of view. They were to make a claim and support it with evidence from one of the sources. I used the argumentative essay rubric to judge their first attempts. They understood that their efforts were not to be graded, but served as a baseline assessment of their argumentative writing skills.
After looking at their first efforts, I decided I needed to help students to write a clear claim. I did this through a commonly used humorous example, "dogs are better than cats."  I also gave them practice, by having them look at six different claims to decide which claim was the strongest.
Before writing a longer argumentative essay, I had my English Learners focus on argumentative paragraph writing. When studying immigration my students were asked to write an argumentative paragraph. The prompt: Should Angel Island be called the Ellis Island of the West?  In addition to textbook and lecture, students gathered information from several sources including: An Interactive Tour of Ellis Island by Scholastic and a short KQED video from the website called, Angel Island: the Stories Behind the Poems. Students organized their information on a top hat organizer, which helped them to compare the two experiences. Then it was time to write. They could choose to argue the similarities or the differences between Angel and Ellis Islands. Their claim had to be supported with detailed evidence, drawing on the experiences of both European and Asian immigrants in the late nineteenth century.
After shorter exercises in argumentative writing, I had my US History students write several longer  argumentative essays, including ones on immigration and Japanese American Internment.
At the heart of argumentative writing is evidence. In the cases above I provided evidence for my students. However, for my seniors I wanted them to research and find their own credible sources of information to support their claim.
Many of my seniors were still floundering with the basics of writing a research paper, so I designed a series of lessons to take them through the process. First was a lesson on writing an introduction. Second, I did a lesson on writing strong body paragraphs, comparing a detailed paragraph to a delicious sandwich. Finally, I provided a template to help them make an outline for their research paper.
If your students are like mine, they have a hard time citing their sources.  Easybib.com and other web tools can help. In addition, our school has a subscription to turnitin.com, which provides a fast way for teachers and students to check for plagiarism, so common especially with the rise of Internet research where students can just cut and paste.  Turnitin also includes several grammar, spelling, and punctuation tools that students can use before they submit a final draft of a paper. In addition, there are several free online grammar checkers like grammarcheck. These are very helpful. 
Life After High School
Let me give one example of an assignment to illustrate the power of research and writing with the aid of the Internet. In the Life After High School  writing assignment, my English Learners explored various types of colleges using the California Colleges website. They gathered information on junior colleges and four year universities, both private and public. Using the website, they learned about the entrance requirements, the costs of these colleges, and possibilities for student scholarships and aid. 
In a second website, The California Career Zone,  students researched various careers. They also got practice making a personal budget, learning about the cost of food, shelter, and clothing in the local area. These excellent on-line resources provided the information. 
The students next step was to use their Chromebooks, with Google Docs, to compose their paper. They sent their first draft to Turnitin to get feedback on grammar, spelling, punctuation, and plagiarism. I circulated around the room, helping them fix their problems.  They submitted their final draft to me through Turnitin, as well. 
Whether we assign short pieces of argumentative writing or longer ones, we need to help our students make an argument citing evidence. Writing is one of those skills that is key to college and career. We won't make all our students great writers; however, it is our job help them leave our classrooms better writers. If we do that, we have given our students a gift that keeps on giving. 
Writing Lessons
Formative Writing Assessment - World Studies
Informational Writing Rubric
Industrial Revolution Essay
Internet Research on Child Labor
Grading A Model Essay
Writing with Visual Evidence Lesson 
Writing with Text Evidence Lesson 
Doing In Text Source Citations Lesson
Preparing for the Industrial Revolution Essay
Formative Writing Assessment - US History
Argumentative Essay Rubric - US History
Writing A Claim
Senior Research Paper
Writing an Introduction
Writing an introduction - Forrest handout pdf

Writing Strong Body Paragraphs
Making an Outline
Making a Works Cited Page
Staff, EasyBib. "The Free Automatic Bibliography Composer." 

EasyBib

, Chegg, 1 Jan. 2018, www.easybib.com/.
Checking for Plagiarism
"Home." 

Turnitin

, Turnitin, www.turnitin.com/.
Grammar Checker

Writing an Argumentative Paragraph - Ellis and Angel Islands
Should Angel Island be called the Ellis Island of the West? - Forrest handout pdf

"Ellis Island Interactive Tour With Facts, Pictures, Video | Scholastic.com." 

Science Explorations | Scholastic.com

, teacher.scholastic.com/activities/immigration/tour/index.htm.

"Pacific Link: The KQED Asian Education Initiative: History: Discovering Angel Island." 

KQED

, www.kqed.org/w/pacificlink/history/angelisland/video/
Life After High School Writing Assignment
Life After High School  Forrest handout pdf
CaliforniaColleges.edu

, www.californiacolleges.edu/#/.

"California CareerZone California CareerZone." 

Announcements RSS

, www.cacareerzone.org/.