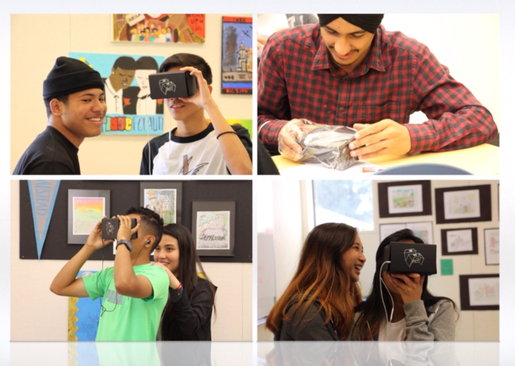 Early in my teaching career the personal computer and  Internet transformed classroom possibilities, vastly expanding educational resources available to students. In my last year of teaching, I also found an exciting new instructional use for the smartphone: Virtual Reality (VR) field trips. 
English Learners from my US History classroom visited an online World War II  site, toured a Syrian refugee camp, and explored coral reefs and Cuban dance, all in a virtual reality (VR) environment.
Preparation for VR field trips was easy. Since many of my students already had smartphones, the investment in a VR lab was relatively cheap. The goggles are inexpensive,with some pairs available on Amazon for less than $8 a pair.  They are made of cardboard and contain two lenses. 
Smartphones are placed inside the goggles, allowing students to experience a powerful three-dimensional environment with the inexpensive VR viewers.
The Google Expeditions website provides educational VR field trips. The app, downloaded on smartphones, is free. Teachers serve as the field trip guides. For example, I showed my students eight panoramic scenes from World War II. We viewed a 360-degree photo of Pearl Harbor, while I explained the Japanese surprise attack on December 7th. Students entered a museum dedicated to the Tuskegee Airmen, visited the beaches at Normandy for D-Day, and walked among the monuments and statues of the Hiroshima Memorial Peace Park. 
The still images were educational, but my students found Virtual Reality videos more powerful and engaging. There are a number of excellent VR video apps useful for the classroom, including: The New York Times VR, The Discovery Channel 360 degree videos on YouTube, and With.in. 
On the With.in app I found a poignant VR story of a 12-year-old Syrian refugee, Sidra, living in a Jordanian refugee camp. In Clouds Over Sidra our young narrator takes us on a tour her world, her tent, classroom, and refugee camp. Most importantly, students hear Sidra's hopes and dreams in her own words. 
Students wearing the goggles were riveted by this video. The VR experience brought them into Sidra's world in a way that other mediums could not. After they watched the VR video, students discussed the experience with a partner, answering questions from the Clouds Over Sidra discussion guide I designed. 
After partners talked, we had a class wide discussion with questions I projected from the Clouds Over Sidra slideshow. I also had my students read a 2015 Associated Press article, Refugee Tent Camp for Syrians Grows into a Busy Jordanian City. This deepened their understanding of the Syrian refugee crisis.
This experience convinced me of the power of VR in a classroom setting. For my next lesson, I asked students to find a short VR video with an educational purpose and to design a discussion guide. Students found an array of VR videos from exploring coral reefs to learning about the history of Cuban dance. 
There was a lot of excitement as students shared their VR discoveries with classmates. You can see their enthusiasm in a short video I made, Take a Virtual Field Trip.  
For teachers, the smartphone has introduced a level of distraction in our classrooms, especially when it comes to student texting and social media. However, you can make powerful educational use of all those small screens in your classrooms by taking Virtual Reality field trips with your students. 
VR Websites Useful for the Classroom

Google Expeditions

, Google, edu.google.com/expeditions/#about.

"The New York Times VR." 

The New York Times

, The New York Times, www.nytimes.com/marketing/nytvr/.

"Discovery VR." 

Discovery VR | Introducing Discovery TRVLR

, www.discoveryvr.com/get-the-app.html.

"WITHIN." WITHIN, www.with.in/.
World Studies and US History VR Lesson on Syrian Refugees
Video on Taking A Virtual Field Trip
 Take a Virtual Field Trip Forrest  video