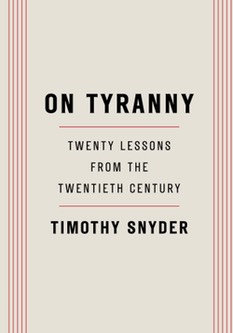 I've created an On Tyranny Reading and Discussion Guide. It highlights key vocabulary in each chapter, along with suggested questions to guide your students' reading and discussion. And at the end of the guide, I've designed a list of extension activities to help students delve more deeply into themes found in the book. 
Download the On Tyranny Reading and Discussion Guide here.
Review: On Tyranny - A Book for Our Students
by Dave Forrest
Every high school student should read On Tyranny.
 Yale Historian Timothy Snyder has written a powerful and timely book. His slim volume's subtitle is Twenty Lessons from the Twentieth-Century.  Snyder's website aptly describes his effort as "a guide for surviving and resisting America's turn towards authoritarianism."
 Snyder's message is one we often tell our students: each generation must defend democracy, extend its freedoms, and make improvements in our governmental institutions. In our present moment, he argues, "American democracy must be defended from Americans who would exploit freedoms to bring about its end."
 All of us who teach civics or American government are proud of our democratic institutions and traditions, however imperfect. Snyder's book is a non-fiction cautionary tale. He reminds us that the forward march of our democracy is not inevitable. Recent events have reawakened us to this truth, as well.
 Snyder points out that "history doesn't repeat but it does instruct." Therefore, his book draws upon numerous examples from the 20th century of the various ways that demagogues and dictators destroyed democracies. He not only explores Hitler and the Nazis, Stalin and the Communists, but the regimes of Eastern Europe during the Cold War and Putin's Russia after.
 Throughout his book, Snyder gives contemporary examples of how Trump and his movement in the Republican Party have sought to undermine American democracy using many of the techniques of 20th century authoritarians. He writes in chapter 3, "We believe we have checks and balances, but have rarely faced a situation like the present: when the less popular of the two parties suppresses voting, claims fraud when it loses the election, and controls the majority of state houses."
 Snyder provides a roadmap for our students for defending democracy and being good citizens. His twenty chapter titles are simple and direct: chapter 2 "Defend Institutions", chapter 6 "Beware of paramilitaries", chapter 8 "Stand Out", and chapter 15 "Contribute to Good Causes." Many of his chapters On Tyranny we would expect to find: "Beware of the one-party state.", "Listen for dangerous words." and "Do not obey in advance." However, you might be surprised to read Snyder's thoughts in his chapters entitled, "Make eye contact and small talk.", "Establish a private life." and "Practice corporeal politics."
 Each brief chapter begins with a highlighted paragraph explaining his main idea. For example, in chapter 10, "Believe in Truth", Snyder writes, "To abandon facts is to abandon freedom. If nothing is true, then no one can criticize power, because there is no basis to do so. If nothing is true, then all is spectacle. The biggest wallet pays for the most blinding light." His writing is accessible to the high school student.  However, he does not avoid complex ideas. The final sentence of this chapter is, "Post-truth is pre-fascism."
 On Tyranny provides students with very practical ideas for becoming literate, concerned citizens. In chapter 9, "Be Kind to Our Language" Snyder asks individuals to "separate yourself from the Internet …. read books." In chapter 11, "Investigate", he argues citizens should spend more time reading long news articles to become informed, rather than watching TV or scanning political blogs. He even suggests that to gain an appreciation for facts and journalists, people should try writing a correctly sourced investigative article on a topic of interest. All of us who teach social studies would agree with that.
 Several of Snyder's most powerful chapters highlight the current assaults on our democracy. In chapter 18, he writes, "After 2016 the United States became a country of staged crisis, such as a supposed refugee "invasions." A real plague that killed became an opportunity for those who opposed health measures to "liberate" their states. A real murder of an African American became an imagined wave of violence against the suburbs. A secure election became the occasion for a big lie about its result. This took the form of the "stab in the back" a betrayal by internal enemies: the founding myth of the Nazis."
 In chapter 19, "Be a Patriot," Snyder distinguishes between phony patriotism and real patriotism, between love of country and depraved nationalism. He writes, "What is patriotism? Let us begin with what patriotism is not. It is not patriotic to dodge the draft and to mock war heroes and their families… It is not patriotic to avoid paying taxes, especially when American working families do pay…. It is not patriotic to admire foreign dictators… A patriot, by contrast, wants the nation to live up to its ideals, which means asking us to be our best selves."  
 There are lots of ways for social studies teachers to use On Tyranny. It could be read a chapter a week for a semester or completed in its entirety in a week or two. Teachers may want their students to take notes as they read, using strategies like text annotation or Cornell Notes. In addition, the chapter readings can be supplemented by short lectures given by the author available on YouTube. On Tyranny is book that lends itself to academic conversations, whether in pairs, groups or whole class. And creative teachers may use a chapter as a springboard for various authentic projects such as student art or film.  In addition, I've created an On Tyranny Reading and Discussion Guide for each chapter.
 On Tyranny is a short 128-page book. It costs about $ 9 per paperback or electronic copy. A Social Studies department could make On Tyranny a companion non-fiction reading to a World Studies class covering the 20th century history or a supplementary text in an American government or civics class for seniors.  An English Department might pair On Tyranny with fictional works such as Bradbury's Fahrenheit 451 or Orwell's Animal Farm and 1984. 
This is small book is full of big ideas. Snyder has given teachers an invaluable resource for teaching 21st century citizenship. On Tyranny is a must read for our students during these turbulent times.