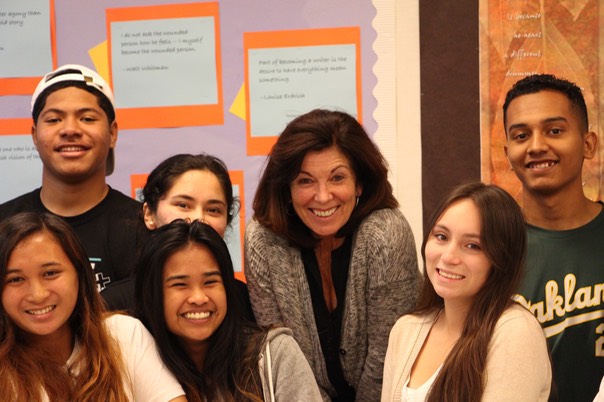 I've learned a lot about integrating reading strategies into my social science classes from my wife, Marilyn, an All-Star English teacher. That's Marilyn above, surrounded by our students. When I was smitten by her in the lunch room I asked, "Can you help me integrate literature into my history course?" She obliged, and we taught an integrated core of history and English for over twenty-five years. For example, when our students were learning about World War I in my class they were reading All Quiet on the Western Front in hers. I've shared what I learned from Marilyn below, however, as authors always say, "any errors are solely my own." I am sure Marilyn would agree.
Reading The Textbook

Let's start with the ABC's, reading the social studies textbook. We may like them or hate them, but most of us use the textbook. So, help your students meet their new textbook by providing a simple Scavenger Hunt Lesson, introducing your students to the structure of their book. Then help them tackle reading a textbook chapter with a reading strategy like THIEVES. The metaphor is that by enlisting this strategy students steal lots of information before reading the entire chapter.   With THIEVES students see what they can learn from the title, headings, visuals, and vocabulary in a chapter. They also look at the chapter questions at the end of the chapter, establishing a purpose for reading.  
There are lots of different approaches that social studies teachers use to get kids to read their textbook. I've tried most of them. The worksheet is most common, with kids answering the questions you've provided or those packaged with your textbook. In my experience this approach can lead to a lot of skimming and copying, not so much careful reading. I still designed reading guides for my US History class of English Learners, but I structured them in three parts: Before You Read, As You Read, After You Read. For example, in my Reading Guide - The Cotton South, I was integrating some of the THIEVES strategies into the guide itself.
A second approach is to have students take notes on the textbook reading. There are lots of different note taking strategies. A common one I've used is Cornell Notes, where students design questions and take notes on answers found in the text. I particularly like this template because I can provide them with an essential question, and students need to write a summary of their reading, as well.   As with any strategy you use, it is important to model it first with students. Here is a Cornell Notes Model on Greek City States, the very first chapter in our World Studies book.
No matter which method you choose for textbook reading, you are going to have the challenge of holding students accountable for careful, in-depth, textbook reading. We're very busy.  Often, we don't have time to grade each reading guide. I've got no magic bullet for this dilemma. You can choose to grade a certain percentage of reading guides to send the message that you expect each to be done with effort and quality. With my AP Econ and AP Gov students I simply gave short reading quizzes, 10 questions, which could be easily answered if they read their texts. Here is an example, an AP Macroeconomics Reading Quiz, I designed to be sure my busy AP students read their textbook before I covered the material in class. If you let students they will superficially skim textbook for answers or copy reading guide answers from classmates. Whichever methods you choose, help students build the habits of carefully reading the textbook to the best of their abilities. 
Reading Primary and Secondary Sources
Let's talk about reading strategies for primary and secondary sources we often use in our social science classrooms. One strategy that is excellent for helping students read critically is text annotation. Students read and mark up a document, circling words or phrases they don't know, underlining main ideas, making their own comments in the margins. I created a model for my World Studies students by annotating the famous Funeral Oration by Pericles. It is a short primary source, but a tough one for my sophomores. Annotation engages students in "talking to the text." a strategy designed by WestEd's Reading Apprenticeship (RA). It is a very useful reading strategy, limited only by your photocopy allowance. 
One of the most engaging strategies for helping students read difficult primary source documents is Reader's Theater. I learned this one from Marilyn, too, who uses it to have students read and perform portions of plays and novels. A social science teacher can adapt it by picking a powerful primary source, like an excerpt from Frederick Douglass' West India Emancipation speech. You know the speech from Douglass' famous line, "If there is no struggle, there is no progress." After I make a class set of the speech excerpt, I script parts by highlighting a sentence or phrase on each handout, so that the entire excerpt will be read aloud. I like to have kids do this in pairs, so typically I'll highlight 17 or 18 sentences or phrases. Next, kids look at their highlighted portion and talk with their partner about what it means. Students also take turns reading their portion, practicing it aloud. Finally, it's time to perform. The student with the first line reads it aloud, followed by the second, the third, until the entire excerpt has been performed by the class. You can combine reading strategies, too. For example, in my Gettysburg Address Activity,  I have students annotate Lincoln's speech, answer questions about it, and then we perform it with Reader's Theater. Try this one. It will bring a primary source alive. 
Reading Nonfiction Articles
Part of helping our students become informed citizens is having them regularly read newspaper and magazine articles. The Newsela website provides students with a variety of daily news articles from reputable sources. I learned about this resource from my daughter, also a teacher in the family business. Newsela allows teachers to choose the reading level for each article, so it can be adapted each student's skill level. In addition, Newsela editors have created text sets, combining articles on common social studies themes. The featured articles have on-line reading quizzes, as well. Whether you use the free Newsela resources, or have your school purchase more features with the subscription service, Newsela is an excellent way to get your students reading topical non-fiction articles. 
Summary writing is another excellent way to help students carefully read non-fiction articles. San Francisco State Professor Kate Kinsella has designed activities to help students focus on using academic vocabulary to describe an author's argument. We've adapted her work in a simple Summary Writing Rules template. Students begin by stating the title, author and purpose of an article. They are required to use the language of summary, such as the author argues, asserts, or believes and to present the author's main ideas in the order they appear. Finally, students must paraphrase what they have read and include a concluding statement. 

Reading Nonfiction Books
All of us have favorite books. I am guessing that yours include beautifully written memoirs and histories, perhaps these works even inspired you to become a social science teacher.  We need to give our students the insights and exhilaration that comes from reading a powerfully written non-fiction book. Marilyn and I incorporated this type of book into our course. For example, during our unit on the Civil Rights Movement, students read Melba Pattillo Beal's poignant memoir, Warriors Don't Cry. Beal was one of the Little Rock Nine, the first African American students to integrate Little Rock's Central High School in 1957. Her first-hand account as a non-violent "warrior" confronting racial segregation is told through her eyes as a teenager. The educational organization Facing History and Ourselves has an excellent Study Guide for Warriors, and they will lend class sets for free. Even if you don't have time to read an entire book, choose a chapter that puts students in the historical moment you are teaching about. Nothing is more powerful. 
A well-chosen non-fiction book can help students tackle difficult controversial issues. For example, our students read Sonia Nazario's book on immigration, Enrique's Journey. Nazario is a Pulitzer Prize winning journalist who chronicles the journey of a 12 year Honduran boy to the US in search of his mother. On his odyssey Enrique faces, "unimaginable peril, often clinging to the sides and tops of freight trains, Enrique travels through hostile worlds full of thugs, bandits, and corrupt cops, but he pushes forward, relying on his wit, courage, hope and the kindness of strangers." Hear how students at San Diego's Crawford High School felt about reading Enrique's Journey in their video book report. The Enrique's Journey website has lots of good curriculum ideas for secondary teachers.  In our US History class, we not only read Enrique's Journey for the historical unit on immigration but also to get our students, many of whom are immigrants, to tell the stories of their families. The book became a springboard for the Journeys website, where our students interviewed parents, aunties, uncles, grandparents, classmates, and community members about their journeys to the United States. You can read more about our website on the projects page.
Reading Fiction

Let me end with a pitch for reading fiction in your social studies classes, as well. Novels, like Tony Morrison's Beloved, describe the depredations of slavery more powerfully than a lecture ever can. Let your students experience the horror of the trenches in World War 1, even if they only read one chapter from All Quiet on the Western Front. Who better than John Steinbeck telling the Joad's story to have our students feel what the Dust Bowl and migration to California were really like during the Great Depression? Students who read Eli Wiesel's Night will not forget the Holocaust. We've used many novels for many classes, The Things They Carried to chronicle US soldiers' experiences in the Vietnam War, In the Time of the Butterflies to document a Dominican dictator, and How Green Was My Valley to trace the transformation of a Welsh coal mining town during the 19th century. Surely you have a favorite piece of historical fiction which transported you to another time and place. Don't be afraid to share it with your students. 
When our social studies students leave our classes we want them to remember the important content of our courses. We can give our students a second gift by helping them become better readers. Whether it is reading a textbook, analyzing a primary source, or enjoying a well written piece of fiction or non-fiction, we should make the teaching of reading explicit in our classrooms. Remember, different types of texts demand different reading strategies. Few among us can make reading magical the way my wife and teaching partner Marilyn can. However, we can all work to make our students better readers, making our courses livelier in the process. 
Reading Lessons

Reading the Textbook: Scavenger Hunt Lesson
Reading the Textbook: THIEVES
THIEVES  handout by Gear Up Waco http://gearupwaco.org

"THIEVES." 

Student Information System | ReDesign, www.redesignu.org/design-lab/learning-activities/thieves.
Reading the Textbook: Before You Read, As You Read, After You Read 
Cornell Note-Taking Strategy
Reading the Textbook: Quizzing for Accountability
Reading Primary and Secondary Sources: Text Annotation
Reading Primary Sources: Reader's Theater
Reading Newspaper Articles 
Reading Non-Fiction - Warriors Don't Cry
"Warriors Don't Cry." 

Simon & Schuster

, Little Bee Books, www.simonandschuster.com/books/Warriors-Dont-Cry/Melba-Pattillo-Beals/9781416948827.

"Facing History and Ourselves." 

Facing History and Ourselves

, www.facinghistory.org/.

"Teaching Warriors Don't Cry." 

Facing History and Ourselves

, www.facinghistory.org/books-borrowing/teaching-warriors-dont-cry.
Reading Non-Fiction - Enrique's Journey
Nazario, Sonia. 

Enrique's Journey: the Story of a Boy's Dangerous Odyssey to Reunite with His Mother

. Random House Trade Paperbacks, 2014.

Sotomayor, Sonia. "Home." 

Enriquesjourney.com

, enriquesjourney.com/.

Forrest, Dave.

 

Journeys

, James Logan High School, daveforrest.net/Journeys/Journeys.html.