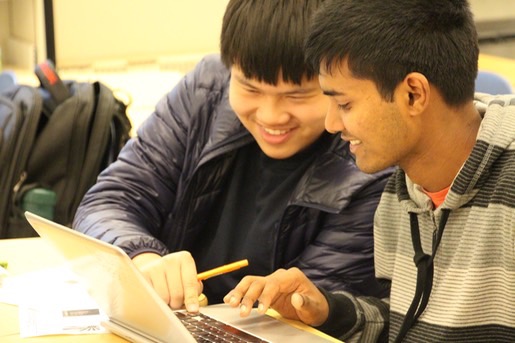 Nothing is better than a good social science project. Students get a chance to choose a topic of interest, providing an opportunity for in depth learning. They cooperate with classmates, often learning new technology tools. When classmates present their projects, they showcase student talents, enhancing social science content for the entire class in the process. If nothing is better than a good project, it must be said, nothing is worse than a bad one. Students are off task, wasting valuable class time. Students plagiarize. Presentations are painful to watch. So, what are the keys to successful social science projects? The short answer is teacher planning and preparation. 
Slideshows
In my experience, successful classroom social science projects start with an overview, a handout that delineates the key steps of the project. And before students start their work, they are given a rubric on which they will be graded. In the fall my US History class of EL students did an Immigrant Slideshow Project, focused on immigrant groups from the turn of the 20th century.  Along with the project overview each student received a rubric.  I also designed a note-taking sheet with key questions for research. If you have a good student model from the year before, show it to students so they know what to shoot for. If you are creating a new assignment make one yourself, like this model on Irish immigration.  After students researched their immigrant group, they planned their slideshow on a storyboard template, sketching words and pictures. I circulated around the room helping students with their presentations. When they were complete, students presented their slideshows, like this one on Italian immigration.
In the spring we made another slideshow during our unit on the 1960's on the theme: The Fight for Rights.  Again students received an overview and rubric, research sheets and a storyboard template. In addition, I created a slideshow called Improving Your Slideshow Design, to help students improve their use of fonts, colors, and card layout. I also gave them a model of a storyboard, which I designed for a slideshow I had shown them earlier in the year. 
Video Projects
Computer slideshows evolved into digital video projects with the help of programs like iMovie. For example, students took their immigration slideshows, like this one on Chinese immigration, adding their own voice and choice of music to the project. Before we had Smartphones to shoot video, we used digtial video cameras to create mini student documentaries. For example, students made one when we took a field trip to Angel Island to see the Immigration Station, where Chinese immigrants were detained upon entering San Francisco Bay. A team of students shot digital video on our field trip, combining it with stills and adding their narrative to their Angel Island: Anything But Pleasant video. 
I designed planning handouts for student videos, similar to what I did for other types of projects. For example, while studying the 1930's I made a handout that dilineated the steps for making Depression Documentaries.  In addition, I designed an iMovie Storyboard Template to help students with planning their narration, visuals and music. Students shot video footage for the various oral history projects discussed below. For example, two of my English Learners made a video interview with our Principal, Mr. Brar, himself an immigrant from the Punjab in northern India. And student videos were never more fun than during our study of the the1960's, when students made music videos, choosing a popular 60's song as the sound track. 
Infographics
More and more information is being communicated in graphic form, especially infographics in textbooks and on webpages. I thought it would be fun to have students take a crack at creating their own. I asked my seniors to make a  Government Infographic. After researching a topic from their textbook, they made an infographic sketch. Then they went online to use the Piktochart.com website, which contains a variety of infographic templates. They designed their infographic, like this one on  Foreign Aid, sharing them with the class when they were complete. 
Freedom and Structure
The more tightly you structure student projects early in the year, the more freedom and project choice you can give students later in the year. In the fall students learn the project skills necessary to work more independently in the spring.  One year I let my seniors loose at the end of the year with an assignment,  Your Turn to Teach. The next year I designed a similar assignment, Students Explain the Concept. In these projects students had choice of both topic and type of presentation. They could design an iMovie, slideshow, infographic, poster, or piece of art. The performers in my class could opt to showcase an original rap or skit. The students had fun, and I did, too, watching their creative efforts at teaching essential course content.

Oral History Projects
Oral history projects have been among the most powerful assignments I have done with students. Soon after we had Internet in our high school, I designed the History Close to Home Project. My students conducted interviews with  family or community members who lived through an interesting period of history. They documented and posted the stories of parents who had fought in wars, relatives who escaped persecution, and senior citizens who lived during the Great Depression. Unfortunately, the original History Close to Home website is no longer available, but Marilyn and I wrote about the project in a 2001 Edutopia article, Becoming an Accomplished Teacher in the 21st Century. 
Union City's New Americans Book
We created a similar oral history project several years later, this time focused on interviews with local immigrants. Our classes created a book and website entitled Union City's New Americans, containing interviews of immigrants from our Union City community. Some students interviewed family members or friends. Others visited the nearby senior center, talking with immigrant senior citizens. As an example, Ryan interviewed Tuan Nguyen, a Vietnamese immigrant who shared his harrowing escape from Vietnam, entitled Journey By Sea. In preparation for this project, we gave students interview questions and had them practice interview techniques. Their efforts were graded on a rubric. However, the real reward came when students returned to the senior center to celebrate with interviewees. Students performed powerful excerpts from their interviews and presented each interviewee a book. It was a special moment watching my teenagers honoring Union City's newest Americans.  
 Journeys Website
Our Journeys website was inspired by Sonia's Nazario's book Enrique's Journey, the true story of a Honduran child's perilous journey to the United States. After we read this book, my students interviewed parents, aunties, uncles, grandparents, classmates, and community members, who shared their own journeys to the United States. Immigrants were asked about their home countries and their reasons for coming to the US. In addition, interviewees described their experiences in the US and their reflections on what it meant to be an American. Not all the interviewees wanted their stories to appear on the website. However, some immigrants not only agreed to share their stories, but even provided personal photos for the Journeys website. 
Community Projects
Web based projects are particularly engaging because students publish for an audience far beyond the classroom. For example, in our Union City Turns 50 website, my Logan seniors celebrated Union City's 50th birthday. Their  website included a variety of creative student entries including articles on Union City history, a movie and photo collage about the local area. My Advanced Placement American Government students proudly shared their website at the city's birthday party in the summer.
Connecting the Past with the Present
Projects are academically worthwhile for students with a variety of skill levels. English Learners from our sheltered US History and American Literature core chose one event or theme from America's past, comparing it with a contemporary issue. In our Then and Now  project, we wanted our students to see the connection between the challenges faced by past generations with choices confronting their generation today. Pairs of students researched and wrote two paragraphs on a historical parallel and created projects to tell their story using different mediums: art, PowerPoint, and video. During the final week, each pair of students presented their work to classmates. The projects were posted on the  Then and Now website.    
As a busy social science teacher, with lots of content to cover, you'll have to pick your project spots thoughtfully. When you do decide to do an authentic assignment, plan it carefully and teach the specific skills necessary for student success. You'll be rewarded. A well-designed project is a joy for students and teacher, alike. 
Project Lessons
Project Lesson US History - Immigrant Group Slideshow
Project Lesson US History - The Fight for Rights Slideshow

Project Lesson US History - iMovies 

Project Lesson Government - Infographic on Government Topics
Project Lesson Economics - Your Turn to Teach
Project Lesson American Government and Economics - Students Explain the Concept
Project Lesson US Histsory - Alphabet Soup Poster Project
Project Lesson US History - History Close to Home - Oral Histories
Project Lesson US History - Union City's New Americans Book and Website
Project Lesson US History - Journeys Website
Project Lesson American Government - Union City Turns 50 Website

Project Lesson US History - Then and Now  Website