Welcome to the Then and Now Project

In the Then and Now Project students chose one event or theme from America's past, comparing it with a contemporary issue. We wanted our students to see the connection between the challenges faced by past generations with the choices confronting their generation today. Pairs of students researched and wrote two paragraphs on a historical parallel and created projects to tell their story using different mediums: art, PowerPoint, and video. During the final week, each pair of students presented their work to classmates. You can visit a sampling of these student projects by clicking on our course themes: immigration, inventions, recession, war, and rights, found on the navigation bar on the top of each web page. We have also included a section for teachers with our assignments, handouts, and models.

The authors of the Then and Now Project are junior and senior English Learners (EL), from our sheltered US History and American Literature core, at James Logan High School in Union City, California. We are so proud of what they have accomplished this year!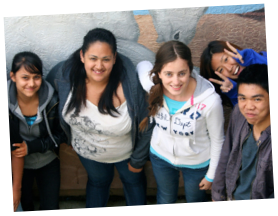 Special Thanks

Special thanks to the Facing History and Ourselves Organization, which provided funds to pay for the art supplies and digital materials for the project. FHAO continues to provide powerful curriculum and staff development for teachers.

We also want to thank members of our Logan administrative team,  Principal Amy McNamara and House Principal Ramon Camacho, who have advocated for our EL students and have provided us with support in our classrooms. And finally, special thanks to House Principal, Abhi Brar, who shared his own immigration story with our students after school on a busy Friday.  Thank you all.

Dave and Marilyn Forrest

James Logan High School

1800 H. Street,

Union City, CA 94587